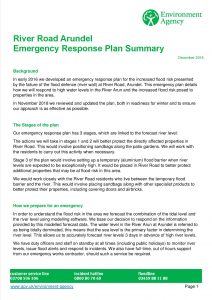 River Road Arundel Emergency Response Plan Summary
December 2018
Background
In early 2016 we developed an emergency response plan for the increased flood risk presented by the failure of the flood defence (river wall) at River Road, Arundel. This emergency plan details how we will respond to high water levels in the River Arun and the increased flood risk posed to properties in the area.
In November 2018 we reviewed and updated the plan, both in readiness for winter and to ensure our approach is as effective as possible.
The Stages of the plan
Our emergency response plan has 3 stages, which are linked to the forecast river level:
The actions we will take in stages 1 and 2 will better protect the directly affected properties in River Road. This would involve positioning sandbags along the patio gardens. We will work with the residents to carry out this activity when necessary.
Stage 3 of the plan would involve setting up a temporary (aluminium) flood barrier when river levels are expected to be exceptionally high. It would be placed in River Road to better protect additional properties that may be at flood risk in this area.
We would work closely with the River Road residents who live between the temporary flood barrier and the river. This would involve placing sandbags along with other specialist products to better protect their properties, including covering doors and airbricks.
How we prepare for an emergency
In order to understand the flood risk in the area we forecast the combination of the tidal level and the river level using modelling software. We base our decision to respond on the information provided by this modelled forecast data. The water level in the River Arun at Arundel is referred to as being tidally dominated, this means that the sea level is the primary factor in determining the river level. This allows us to accurately forecast river levels 3 days in advance of high river levels.
We have duty officers and staff on standby at all times (including public holidays) to monitor river levels, issue flood alerts and respond to incidents. We also have full-time, out of hours support from our emergency works contractor, should such a service be required.
www.gov.uk/environment-agency Page 2
How to contact us in an emergency
If you need to report a flooding incident call the Environment Agency incident hotline on: 0800 80 70 60 (24 hour service)
Other contact details
If you want find out how to stay safe during a flood or sign up to our flood warning service you can speak to a Floodline advisor. Please call our 24 hour Floodline on: 0345 988 1188 or on 0345 602 6340 Type Talk for people with hearing impairment.