5th September 2019 – PRESS RELEASE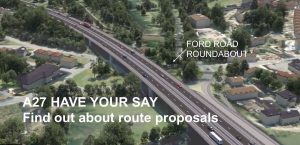 Highways England have launched a new consultation with 6 possible options for the A27 bypass. These routes are colour-coded on the map that you can link to here:
A27 Arundel Bypass Further Consultation brochure
During the consultation period that runs from now until 24th October 2019 you will be able to obtain a hard copy of the Highways England brochure explaining these options from Arundel Town Hall, the Arundel Library, by visiting one the public consultation exhibitions or online at: A27 Arundel Bypass Further Consultation brochure
This is a very important project for our town, and we plan to hold a town meeting in the near future to discuss these options. Watch this space for details of the time and date.
HAVE YOUR SAY
It is important that all Arundel residents do express their views in this consultation because Highways England will be strongly influenced in their decision by the preferences expressed not only by residents of Arundel but by residents of other communities such as Binstead and Walberton, who will have their own local interests. 
Residents can vote for their preferred route by posting the response form that accompanies the brochure to a Free-post address or online at: A27 Consultation Response Form
POINTS TO NOTE
The information provided by Highways England is not easy to navigate so here is a short guide to the 6 colour-coded options.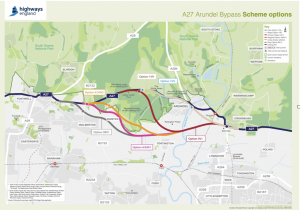 Beige and Cyan Routes
As you will see from the map, the Cyan and Beige options are not by-passes at all. They both run straight through the town. These routes increase the width of the A27 between Crossbush and the bottleneck  on the A27 just west of Arundel where the dual carriageway narrows to a single lane. In the Cyan option a new fly-over would be built over the Ford Road roundabout. 
Whilst these are the lowest cost options, they do not meet any of our town's requirements. They leave Arundel divided by an even bigger, noisier road, they adversely affect a large number of Arundel properties, including houses in the conservation area, and have a significant  impact on woodland and the South Downs National Park.  All of these detrimental effects are clearly shown on pages 16-17 of the Highways England brochure.  
All in all, these routes are damaging to Arundel, remembering that our town is often described as the 'jewel in the crown of West Sussex' and the 'Gateway to the South Downs'. 
In an extraordinary Arundel Town Council meeting on the 4th September, all 12 Arundel Town Councillors voted unanimously against supporting these 2 options.
Crimson Route
The Crimson route has the greatest environmental impact on ancient woodlands and the South Downs National Park.  Whilst Highways England have included this as a theoretic option, it would almost certainly be rejected for these reasons.
Grey Route
This route is attractive from an environmental viewpoint because it does not run through the South Downs National Park and has the lowest impact on ancient woodland. However it is the longest detour, the most expensive to build and is likely to be highly unpopular with our neighbours in Walberton. 
Magenta and Amber Routes
Both these routes achieve the goal of genuinely by-passing Arundel.  They do not affect properties in Arundel (in fact these routes affect relatively few properties outside Arundel, too).  They do substantially less environmental damage than the Beige and Cyan options. 
Magenta and Amber are in fact close to the original Highways England recommendation in 2018. Assuming that the Grey route is ruled out by cost, these two routes save the most driving time and have the most positive effect on increasing safety. 
HIGHWAYS ENGLAND A27 PUBLIC CONSULTATION EXHIBITIONS
One of the best ways to find out more about their proposals and have your say is to visit to one of Highways England public consultation exhibitions. You will be able to find out more about the scheme and speak to members of their project team who will be happy to answer any questions you may have.
Date

Location

Time

Address

Friday
30 August

Cathedral Centre

17.30-20.00

London Road,
Arundel, BN18 9BA
Tuesday
10 September

The White Swan

15.30-20.00

Chichester Road,
Arundel, BN18 0AD
Wednesday
11 September
Whiteways car park, South
Downs National Park

11.00-13.00

Bury Hill,
Houghton, BN18 9FD
Wednesday
11 September

Impulse Leisure Centre car park, Storrington

15.00-18.00

Spierbridge Road,
Storrington,
Pulborough, RH20 4PG
Saturday
14 September

Fontwell Park Racecourse

10.30-14.30

Arundel Road,
Fontwell,
Arundel, BN18 0SY
Thursday
19 September

Coronation Hall, Slindon

14.00-20.00

Reynold's Lane,
Slindon,
West Sussex, BN18 0QT
Saturday
28 September

Walberton Village Hall

10.00-17.00

The Street,
Walberton,
Arundel, BN18 0PJ
Tuesday
1 October

Littlehampton Town Council – Manor House, Littlehampton

14.00-20.00

Manor House,
Church Street,
Littlehampton, BN17 5EW
Tuesday
8 October
Mill Road car park (near
Arundel Castle), Arundel

11.00-14.00

Mill Road,
Arundel, BN18 9PA
Saturday
12 October

Arundel Town Hall

10.30-16.00

Maltravers Street,
Arundel, BN18 9AP
Highways England will also hold unstaffed exhibitions, where visitors can view some of our consultation materials and collect printed copies of the Consultation Response Form. These exhibitions will be held at the locations below, during normal opening hours.
---
11 May 2018 – PRESS RELEASE
Highways England have announced that a modified version of Option 5a is their preferred route for the A27 Arundel Bypass.
Arundel Town Council (ATC) worked with Highways England (HE) to support their consultation by arranging for additional unmanned exhibitions and also organised a public meeting in September 2017. ATC were keen to ensure that as many local people as possible were able to understand the implications of the different options being proposed enabling them to make an informed decision for their response to Highways England.
Following this, ATC resolved at their Full Council meeting in October 2017 to support Option 5A, in line with Arundel Chamber of Commerce, ADC & WSCC, as well as many other local parish councils and businesses. (Since 1993, ATC has supported an offline bypass for the Town.)
ATC appreciates the considerable amount of work that HE have carried out in the research and consultation to date. HE's Preferred Route announcement document states that 48% of respondents to the consultation supported Option 5A, with 27% for Option 1 and 23% for Option 3. ATC understand this process has given rise to differing passionate views within the Town and across the District.
In making their announcement HE have taken into account the "significant causes for concern with each of the options presented, including impacts on local communities, biodiversity and ancient woodland".
Following this announcement, ATC hopes that residents can unite in this decision and move forward.
As a key partner, ATC will continue to work closely with HE, other agencies and stakeholders involved in the project, to ensure that chosen route will be designed and constructed to the highest standards.
HE have organised a public drop-in session for local people and interested parties at Arundel Town Hall on Tuesday 15 May from 4-7.30pm. Full details of the A27 Arundel Bypass Preferred Route will be available on the ATC website, as well as accessible directly from HE.
For more information, please contact Arundel Town Council on 01903 881567 or email Carolynbaynes@arundeltowncouncil.gov.uk
---
Arun District Council Press Release: 11 May 2018
A27 Arundel Bypass Decision – Modified Route 5A
Arun District Council is delighted to hear the announcement from Highways England that a modified Route 5a has been proposed for the A27 Arundel Bypass.
This was the route that the council supported, with the suggestion that this could be modified to limit some of the more negative impacts on local communities. We know that considerable research and analysis has been carried out by Highways England as part of their consultation and we are confident that they have made the right decision. Studies on proposals to improve traffic flow on the A27 in the Arundel area were first carried out in 1985 and these and others since then have not been taken forward for financial and environmental reasons. We welcome the decision and look forward to the actual start of the project. We have been at this stage before with the old pink/blue route which was eventually rejected in 2003, having previously been approved.
The Council worked with Highways England to support their consultation by arranging for additional unmanned exhibitions and actively encouraging businesses to respond to the consultation through existing business network meetings. We were keen that as many local people as possible were able to understand the implications of the different options being proposed when they made their responses to Highways England. We looked very carefully at the consultation material and likely impacts across the District, in particular looking at Arundel and its surrounding area, before Councillors made a decision on their preferred option.
Councillor Mrs Gillian Brown, Leader of Arun District Council said: "I am delighted with the choice of route and level of support for this option. I strongly believe that this route will benefit the whole District by improving traffic-flow and supporting the livelihood and success of businesses in the future across the District and in particular the Arundel area. As a key partner we will continue to work closely with other agencies and partners involved in the project to ensure that Arun residents and businesses remain a priority."
---
November 2017: Highways England update.
Once the consultation has been completed, all responses will be analysed and presented in a consultation report. This will be published at the time of the Preferred Route Announcement in early 2018.
More details on timing, including the statutory public consultation scheduled for summer 2018 are in the consultation brochure.
What happens after the public consultation?
All responses and comments received during the public consultation will be considered and summarised in our Public Consultation Report,
which will be submitted to the Department for Transport. We will also report on all the technical work done to date. Once the Secretary of State for
Transport is convinced that there is a compelling case for the scheme and a suitable option, there will be a preferred route announcement (PRA).
Another opportunity to have your say:
Following a preferred route announcement, we will develop detailed proposals. This will include further surveys and investigations to allow us to
design the scheme in more detail. There will be another opportunity to have your say during a statutory public consultation on the
design of the preferred route.
Schedule of Events
Winter 2017/2018: Analysis of your feedback and that from our stakeholders and partners to produce a Public Consultation Report.
Winter 2017/2018: Publication of Public Consultation Report and preferred route announcement (PRA).
Spring 2018: Statement of Community Consultation (SoCC) will be published setting out the process for the statutory public
consultation.
Spring 2018: Statutory public consultation on details of the preferred route.
2019: We will submit a Development Consent Order (DCO) planning application – required for all Nationally Significant
Infrastructure Projects NSIPs.
2019 – 2020: The Planning Inspectorate will evaluate the scheme and Development Consent Order application.
2020: A recommendation will be given to the Government by the Planning Inspectorate. The Government will decide
whether to give the scheme consent.
2023: New road will be fully open.
Email: A27ArundelBypass@highwaysengland.co.uk
Telephone: 0300 123 5000 (24 hours)
---
August 2017
The Highways England A27 Arundel Bypass public consultation has now started, and this is your chance to have your say.
Highways England are consulting on options to improve the A27 by replacing the existing single carriageway road with a new dual carriageway, linking together the two existing sections on either side of the town.
At the Town Hall you will find information boards, the brochure and questionnaire (as long as supplies allow). There will also be Highways England manned presentation days as set out in this letter to all Arundel residents [link to PDF letter attached] as well as dates for other venues during the consultation period.
In addition there will be a Parish Meeting at St Nicholas Church on Monday 25 September from 7 to 9.30pm at which residents will have a chance to have their say locally. The format for this meeting will be a panel consisting of Nick Herbert, MP speaking for a Bypass, someone yet to be confirmed speaking against a Bypass, representatives from Highways England to provide technical support chaired by John Godfrey.
The consultation ends at midnight on 16 October, and we at the Town Council encourage as many residents as possible to take part and make your views known either on the paper questionnaire or online.
The extensive questionnaire asks for feedback on factors such as journey times, safety, environmental impacts etc as well as the options themselves. There is plenty of opportunities for you to give your thoughts on every aspect of the consultation.
Please see the Highways England website here for full details, to download the brochure and take part in the consultation.
---
March 2017
The current position of Arundel Town Council is as agreed at the October 2016 Full Council Meeting:
"The last time this Council voted on the A27 Bypass was over 15 years ago, this new council's position is that a bypass is needed for Arundel to eliminate severance, reduce pollution and allow traffic to move passed the town freely. The current preferred route is the pink/blue route and we await options to be published later this year and the ensuing consultation at which time a new position may be reached by Arundel Town Council."
This is also in accordance with the adopted Arundel Neighbourhood Development Plan, in particular Policy 6 on Transport, Access and Car Parking.
---
25th October 2016
Please find below the link to the Highways England's website with the updates of the A27 Arundel Bypass
http://roads.highways.gov.uk/projects/a27-arundel-improvement/
---
18th March 2015: A27 CORRIDOR FEASIBILITY STUDY BRIEFING NOTE
The Government unexpectedly published the results of the Department for Transport (DfT) / Highways Agency A27 Corridor Feasibility Study during the week ending 14 March 2015. Previously it had been expected that publication would be delayed until after the General Election in May.
The Main Report dated February 2015 by the consultants Parsons Brinkerhoff comes in three volumes under the following headings:-
Evidence Report
Option Assessment Report, and
Investment Cases.
There is also an overall Summary Report issued by the DfT and dated March 2015. Full details are available on line via the attached links
https://www.gov.uk/government/publications/a27-corridor-feasibility-study-overview
https://www.gov.uk/government/publications/a27-corridor-feasibility-study-technical-reports
In relation to Arundel, the Study concluded that there is justification for a new dual carriageway By-Pass to link together the two existing dual carriageway sections of the road.
The DfT Summary Report goes on to say that "the starting point will be the previous preferred route (ie the pink/blue route) subject to consultation with the National Park Authority, local government, and the public on this, and alternative options".
After allowing residents time to read and fully digest the Reports, Arundel Town Council plans to hold a Public Meeting to discuss all the issues and the possible outcomes.
This Public Meeting will be scheduled for some time in June 2015 to give time for consideration of the Study material, and avoid the distracting build-up to the General Election. Further details will be confirmed later.
---
15th February 2015: A27 ARUNDEL BY-PASS
The publication of the Government's A27 Feasibility Study Report has been postponed. The Department for Transport has indicated that the Report is now unlikely to be made publicly available until after the General Election on 6 May 2015.
In the absence of this information, Arundel Town Council is unable to arrange a Public Meeting to discuss the results of the Study and its implications for the Town.
It is now expected that the earliest date for this Meeting would be late May or June 2015, to give local residents time to read and consider the Report following its publication