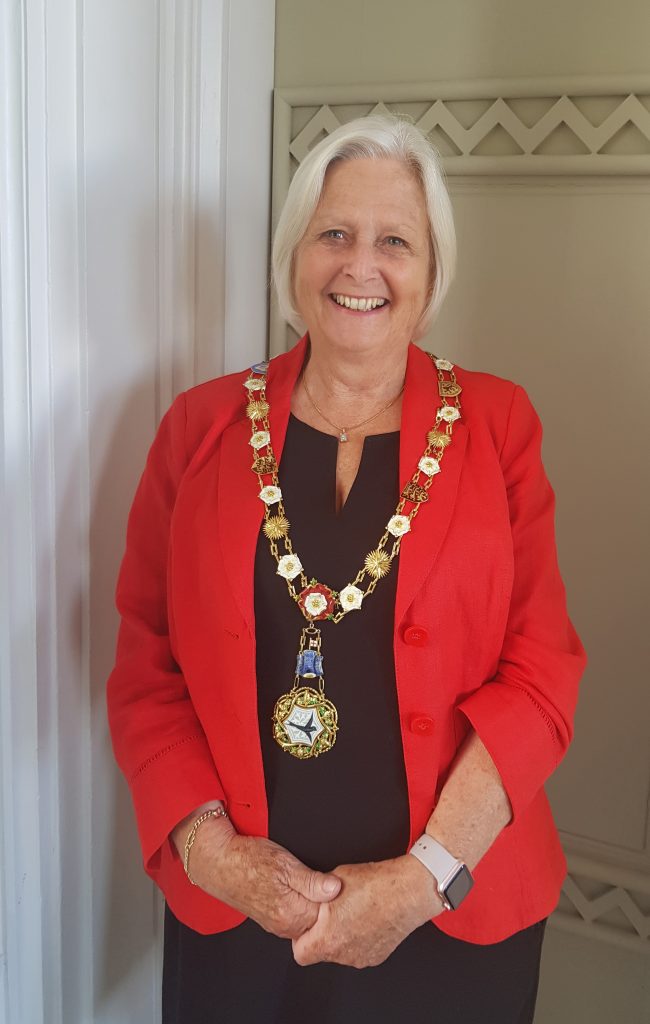 Once again, I am very proud to be able to serve as Mayor of Arundel.
As it was 2011 when I was last Mayor, I thought I would provide you with a little bit of information about myself. I came to Arundel in 1970 as wife of General Practitioner Roger, which in those days was a job; it was before mobile phones and bleepers, so I needed to be at home to take all the telephone calls.
We brought up three sons all of whom went to Arundel C of E School and Littlehampton Community College before going onto University. Thereafter Douglas became a teacher, Charles a Chartered Accountant and Stuart an Archaeologist. Together they have given us eight wonderful grandchildren.
Being the Doctor's wife gave me an introduction to the community of Arundel, and I quickly became involved, and have remained involved with many groups and charities in the town. I became a Councillor in 1984 and have remained on the Council ever since.
Arundel has changed over the years but the biggest change came with the building of the relief road in the 70's. It cut through the middle of the town and divided it into the old market town, the main residential area of Torton Hill and part of Fitzalan Road. Initially not so significant, but as the traffic has increased to unacceptable levels, the communities have become separated. It is my wish this year to unite the communities, so that when people talk about the town, it is the whole community and not just the old market town.
I am looking forward to an exciting year with seven new Councillors and hopefully the passing of the second neighbourhood plan for Arundel. We also may have a decision on the Arundel bypass.
I look forward to forming relationships with the "new look" Arun District Council, West Sussex County Council and the Sussex Police, and working with them through the Council for the benefit of Arundel.
The Town Council has a table with two Councillors at the Farmer's Market (every 3rd Saturday in the month) and this is your chance to ask questions or tell us your views. We also have public questions at the beginning of every Council and Committee meeting, or perhaps you would like to come along to one of our meetings just to find out what we do and what is going on in Arundel.
This year the charity I want to support is ASCA, Arundel Surgery Community Association (www.arundelsurgery.co.uk/asca), which supports all patients of Arundel Surgery.
I look forward to meeting more residents this year and would be delighted to attend any local events, so please do get in contact should you wish to speak with me or for me to attend an event.
Wendy Eve, Mayor of Arundel