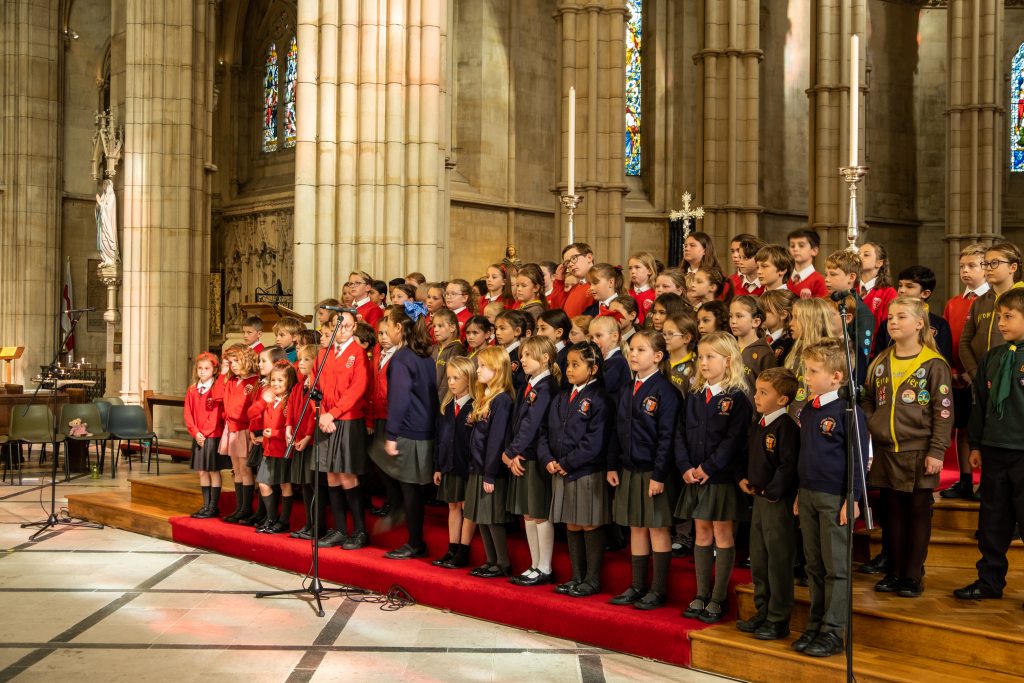 More than 150 children joined together to celebrate 'community' at the 2021 Mayor's Service of Thanksgiving on Sunday 3 October which took place in a full Arundel Cathedral. 80 pupils from Arundel's two primary schools joined together to form a single choir for the afternoon, whilst Mayor Tony Hunt and Councillors were led into the Cathedral by Arundel Scouts and Guides.
The theme of the 2021 Service was 'Community'. Canon David Twinley and Parish Administrator Fiona Maxwell, both of St. Nicholas Parish Church, spoke of the support that 200 Arundel volunteers had given to 300 people who self-isolated during the pandemic, with shopping, collecting prescriptions, driving people to vaccination centres and telephone befriending. Once 'paired off' volunteers had supported the same people throughout, with one volunteer carrying out 120 separate tasks. Canon David's challenge was whether Arundel could maintain this wonderful commitment to the community once the pandemic was behind us.
Children from Arundel Church of England Primary School and St. Philip's Catholic Primary School then read pieces that they had written on why living in Arundel was special. The choirs of St. Nicholas Church and the Cathedral also joined together to sing during the service and Sharon Blaikie sang a fine solo, 'Make me a Channel of Your Peace'.
In his response Mayor Tony Hunt observed:
"Whilst there is no job description for being Mayor, saying 'thank you' to people who continue to do such wonderful things for the community forms a large part of the role. I would like to thank Canon David Parmiter and the Cathedral team for making the service possible, and the children, their teachers and the Scout and Guide leaders for making the afternoon so memorable. The way in which our headteachers encourage their pupils to engage with all of the events in Arundel is an enormous strength for the community."
"I believe that Arundel could rise to Canon Twinley's challenge. The perfect example of this is the very successful "Elevenses" which has recently been started by volunteers Jackey Burzio and Nikki Richardson, to support people with dementia, their carers and other people who were alone. "Elevenses" now has very successful and well-attended meetings at Arundel Lido every Monday – meetings which are greatly enjoyed by the people who attend."