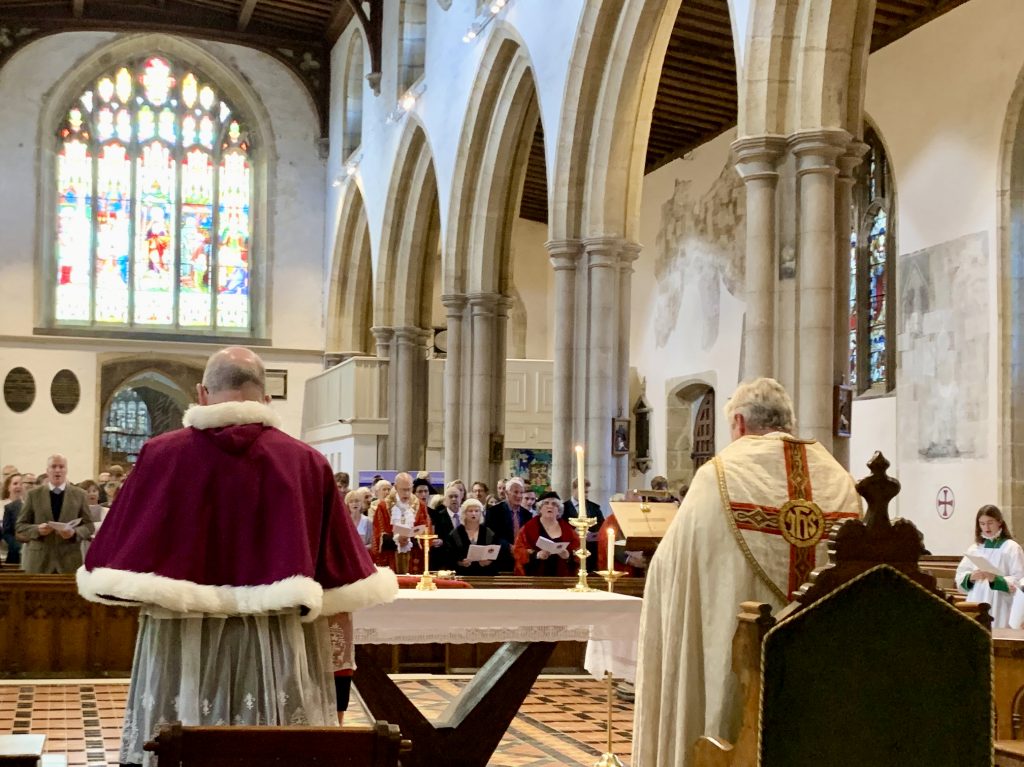 Sunday 2 October saw the Arundel community come together for an annual Ecumenical Service of Thanksgiving hosted by the Mayor of Arundel, Tony Hunt.
Local instrumental group 'Big Gust of Wind' played a rousing selection of patriotic tunes as guests arrived at St Nicholas' Parish Church for the service. The town's Scouting and Guiding groups formed a Guard of Honour to welcome the Mayor's procession and some Brownies and Cubs joined pupils from Arundel CE Primary and St Philips Catholic Primary to read their own specially written poems celebrating life in Arundel during the service.
The service was conducted by St Nicholas' Canon David Twinley. A joint school choir, under the musical direction of music teachers Michael Servant (ACE) and Nichola Morreale (St Philips), sang 'Sing from your heart'. The Homily was given by Canon David Parmiter of Arundel Cathedral and Pastor Jim Braddock of Arundel Baptist Church led the congregation in the prayers.
Tony Hunt said, "This year, at our annual Ecumenical Service, we reflected on how, in the space of a few short months, we have celebrated the Platinum Jubilee of our late Queen and then shared a period of national mourning for her death. These very different events have been linked because both helped us to realise and appreciate the way in which our late Queen honoured the promise of lifelong service that she made on her 21st birthday and continued to provide that service into the 97th year of her life."
"Sunday's service allowed us to reflect on and appreciate our community life in Arundel. Our town is blessed by the extraordinary generosity shown by so many individuals and community groups, leading the way in their commitment in both time and effort towards community causes for the benefit of all."
"Arundel Town Council will continue its work with those individuals and groups to see how we can provide community support this winter to people during the current cost of living crisis."
A retiring collection was taken at the end of the service in support of Arundel Lido's weekly coffee morning – 'Elevenses' – which offers a warm and welcoming community hub for people living with dementia and people who feel isolated.
Afterwards, guests made their way to the Town Hall for a civic reception and music from musical trio 'Superstrings'.
You can read the full text of the Mayor's speech below:
"Your Grace, Ladies and Gentlemen, young people of Arundel, good afternoon.
In June we celebrated the Platinum Jubilee of Her Majesty Queen Elizabeth, and then, three months' later, together we sadly mourned her death.
On both occasions millions of words were written and spoken about how magnificently the Queen had served us over the 70 years of her reign.
Not many people in this world are ever called upon to provide service on such a scale. But this afternoon is an opportunity for us to recognise the service that many people do provide to make life better here, in our Arundel community.
Let's take a few examples.
Earlier this year I attended the Guide's Jubilee Tea Party. The guide leaders spoke to me about how they had seen girls develop through guiding. They told me of one girl who didn't want to go to camp. She was only persuaded to go on the promise that she could be collected and taken home at any time. The girl did not want to take part in any of the activities, she just wanted to sit and watch. But somehow she was persuaded to join in, activity after activity, culminating in her going kayaking. As a result she returned home with a new self-confidence that astonished her mother.
The Scouts are here today too. Earlier this year Canon David Parmiter and I both attended the Scouts District AGM . The Baronial Hall of the Castle was packed and Canon David and I spoke afterwards about just how many scout leaders, supporters and other volunteers there were, all giving their time to provide young people with fun and the chance to do new things and to develop.
It is not only young people. Arundel has an unpaid Flood Advisor in his 80's who spends hours each week dealing with the Environment Agency and other organisations to try to keep us safe from flooding. We have people who give their time to make good things happen here, such as the Festival Committee, the Trustees of the Lido and the Trustees of the Museum. People are sometimes surprised to learn that Arundel Town Councillors are unpaid volunteers, too.
Then there is Elevenses. A great weekly event that takes place very Monday, year round, at the Lido. It has been set up to tackle social isolation and to support people with dementia and their carers, but Elevenses welcomes anyone who would like coffee, cake and a chat. It was set up entirely by volunteers and it is run entirely by volunteers.
For some people who attend, Elevenses is the highlight of their week. On the rare occasions when it doesn't take place they may not speak to anyone else socially that week. If you have not been to the Lido on a Monday at 11.00, I encourage you to do so, because whilst it meets such an important need, Elevenses is also great fun. And the coffee is good.
There will be a collection in aid of Elevenses on the way out.
So this annual service is our chance to appreciate and thank all those who are giving their time and service to make life in our Arundel community better, in good times and bad alike.
Finally let me thank St. Nicholas and all three Arundel churches for today's Mayor's Service and to thank the children and the schools who as usual have gone above and beyond with their brilliant contribution. And I thank you all for being here this afternoon.
Thank you."
Photography by Charlie Waring