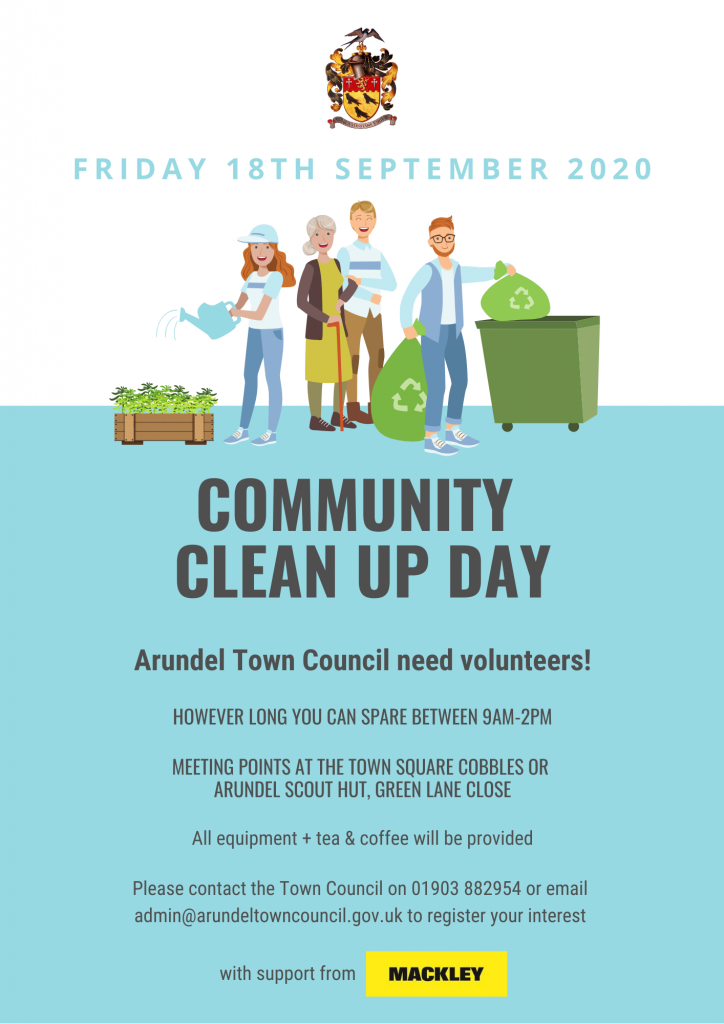 A diary date for you: Friday 18th September is going to be the date of our Arundel Clean, the day when we arm ourselves with litter grabbers and trash bags, and set about picking up rubbish, collecting recycling and turning our beautiful town of Arundel into a litter-free zone. We have chosen to do this on the Friday because on that date we will have a cohort of Mackley staff coming to work with us, bringing some of their equipment, and ready to do some specific tasks such as using their strimmers to clear paths. Having lived amongst us for many months whilst they installed our flood defences, Mackley have decided that they would like to contribute another day's work to our community before they finally bid us adieu. It is a generous act on their part, and one for which we are truly grateful!
We are recruiting volunteers to help so if you would like to join in please let Aby, our administrator in the Town Hall, know (admin@arundeltowncouncil.gov.uk) – 3 hours, 2 hours or even just 1 hour of your time that day, will be most welcome! Please also encourage your friends and family to sign-up, too. For people who are not as mobile as they once were there are chair-based duties to be carried out. Whether people work alone or in a pair or a team, everything will comply to Covid-19 safety guidelines. We are going to be working out of two locations, one on the cobbles and the other the Scout Hall car park, so the clean will reach across both sides of the town.
Our Arundel event is taking place during the Great British September Clean (11th-27th September). When the 2020 Great British Spring Clean was postponed because of Covid-19 680,000 volunteers had signed-up to participate nationally. That's about 1% of the population. That equates to 35 volunteers in Arundel-there's a target for us!