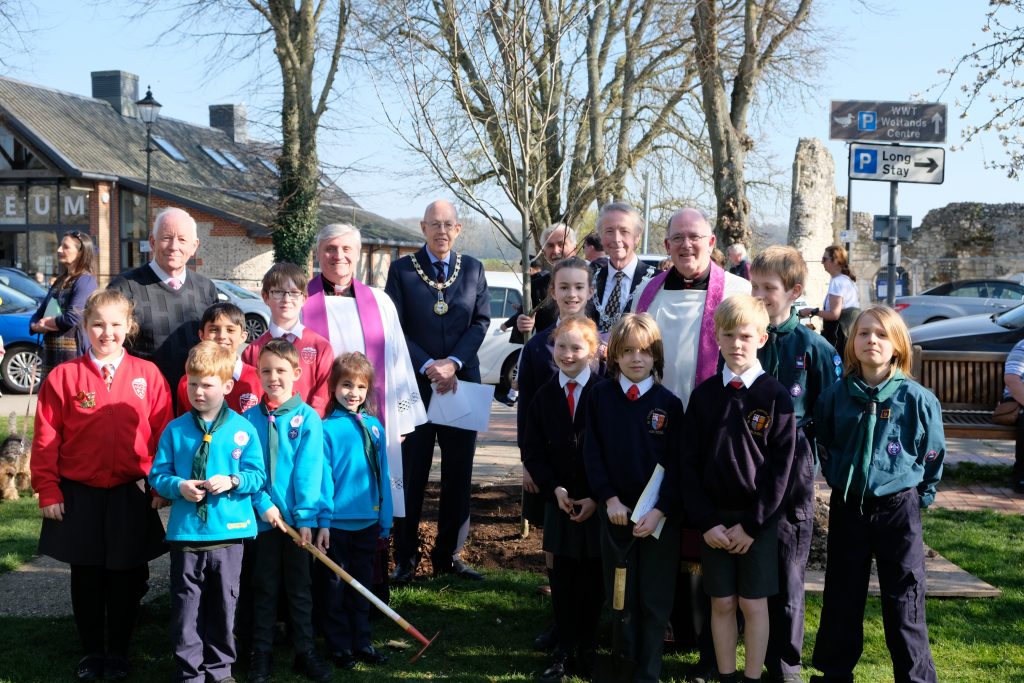 Arundel Town Council have planted a tree in the Pollinators' Garden in Mill Road in memory of the losses suffered and the service given during the Covid-19 pandemic.
The tree, a Davidia involucrata or handkerchief tree, was planted with kind permission from His Grace, the Duke of Norfolk, on Wednesday 23 March 2022. This date signified the second anniversary of the first national lockdown and this beautiful tree will serve as a fitting memorial to this chapter in the town's history.
Residents, local schoolchildren, Cub and Beaver Scouts joined the Mayor of Arundel Tony Hunt, the Chairman of Arun District Council Jim Brooks and Arundel Town Councillors and Officers in a short memorial service jointly led by Canon David Parmiter (Arundel Cathedral), Canon David Twinley (St Nicholas Church) and Jim Braddock (Interim Pastor, Arundel Baptist Church).
Pupils from ACE and St Philips wrote and read their own poignant and reflective poems, and as a sign of looking to the future, pupils Sophie (ACE), Alfie (St Philips) and Beaver Scout Alexander sprinkled earth into the hole around the tree under the supervision of Tree Warden Bob Tanner.
The Mayor of Arundel Tony Hunt said: "This Covid-19 Memorial is a place of memory for us as a community. As we remember the losses and suffering we will also remember great service that the 175 Arundel community volunteers gave, supporting and befriending those who were ill, alone or self-isolating."
Click HERE to read the poems written by ACE Pupils.
Click HERE to read the prayers written by St Philips Pupils.