At Wednesday's Full Council meeting, Arun District Council debated Arundel Town Council's 1,500 signature petition asking for support for a safe Arundel-Ford cycle and walking path. Arun District Councillors unanimously voted to support ATC's petition and the development of the pathway. Councillors from all parties expressed their hopes that this pathway could be provided in the near future.
Ford Road is fast and dangerous for pedestrians and cyclists and the lack of safety and speed of traffic prevents many from walking or cycling along the road. For many years the necessity for a cycle and footpath between Arundel and Ford Station has been discussed and debated, with broad public support for a route to be built which will provide young people with more freedom, encourage people to be more active, and increase passenger numbers at Ford station. The investment could also help to stimulate economic regeneration in the area.
Back in October children from Arundel Church of England Primary School and St. Philip's Catholic Primary School presented the petition to District and County Councillors at Arundel Town Hall. Handing over boxes containing more than 1,500 signatures to Cllr. Shaun Gunner, Leader of Arun District Council and Cllr. Joy Dennis, Cabinet Member for Highways at West Sussex County Council.
MP Andrew Griffith was in attendance at the petition presentation and was also one of 56 community leaders who had signed the original letter of support for the project following the publication of the Town Council's report 'Arundel to Ford Station Cycle and Walking Route-Making Cycling and Walking Safer' in February 2021. He commented: "It is ultimately for the benefit of Arundel children that we all want to see the Arundel to Ford route made safer".
Arun District Councillors unanimously voted to support the project at their January Full Council meeting.
In proposing the motion to approve the petition, Cllr. Bower reported that the Planning Policy Committee had "green lighted" CIL funding for the pathway at their meeting the previous day and expressed his hope that the pathway would come to fruition in the foreseeable future.
Arundel Resident Andy Batty presented the petition very powerfully on behalf of the Town Council Working Group, and his presentation was praised by Councillors. Cllr Shaun Gunner described the pathway as epitomizing why the District Council exists – "to make positive change in the area that we represent".
Cllr Martin Lury made a very important point when he said that "the pathway ticks three boxes: public health through exercise, green travel and cyclist and pedestrian safety".
Cllr Grant Roberts described it as "a model of Town, District and County Councils, together with our MP, coming together in the interests of the community".
Arundel Mayor Tony Hunt commented: "We are delighted to have received such positive support from the District Council. Arundel residents- including the children of our town-want to see this safe pathway provided, but of course it will benefit people throughout this part of Sussex."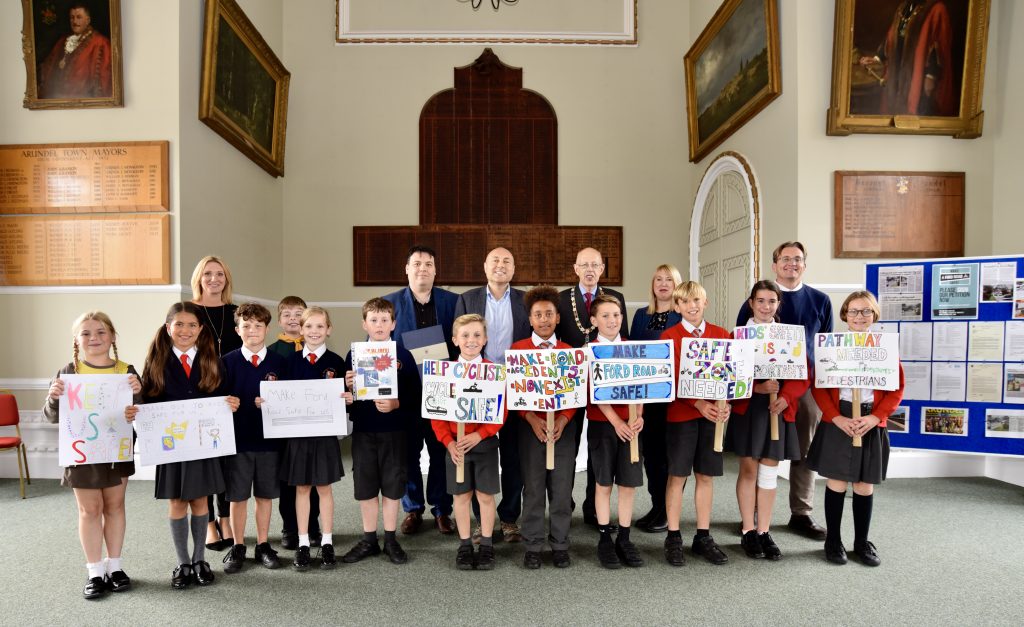 'Arundel Church of England Primary School and St. Philip's Catholic Primary School pupils presenting the petition to District and County Councillors at Arundel Town Hall back in October 2021'
– Photo taken by Charlie Waring