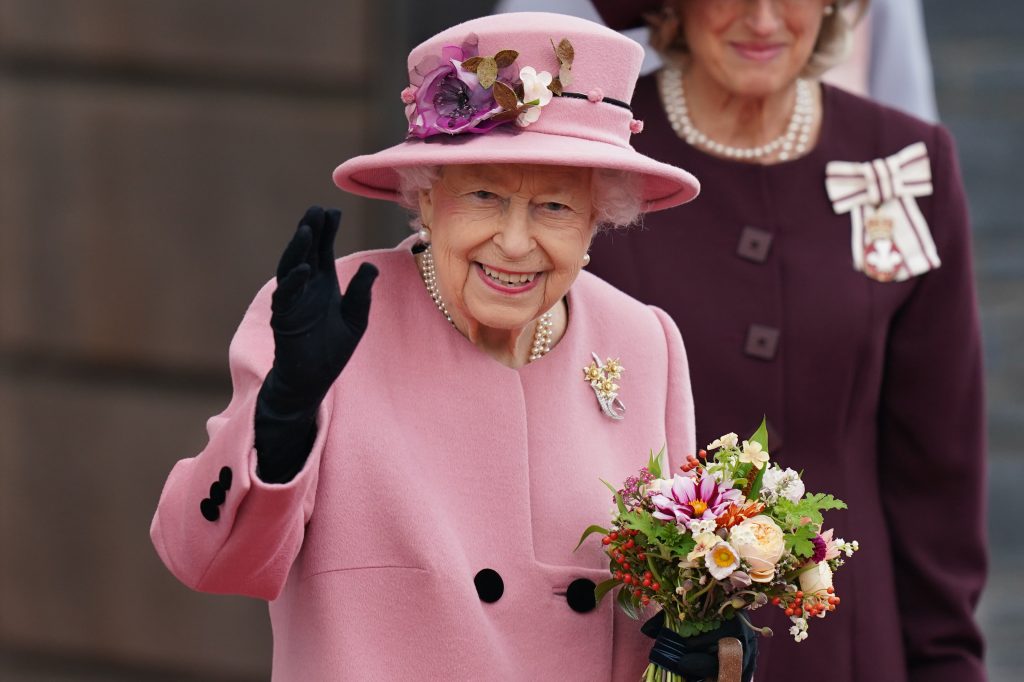 On Sunday 6 February Arundel residents marked the beginning of The Queen's Platinum Jubilee year, when the Mayor of Arundel planted a commemorative tree in Jubilee Gardens as part of the Queen's Green Canopy. More information about this event and photos can be found here.
But the Platinum Jubilee will be a year-long celebration of events and initiatives across the UK including an extended bank holiday from Thursday 2 June to Sunday 5 June.
Arundel Town Council are delighted to announce a series of free community events and activities for Arundel residents to celebrate the Platinum Jubilee, supported by the Arundel Festival of the Arts.
To register for free ticketed events at Hiorne Tower and Herington's Field, please visit: https://www.eventbrite.co.uk/…/arundels-platinum…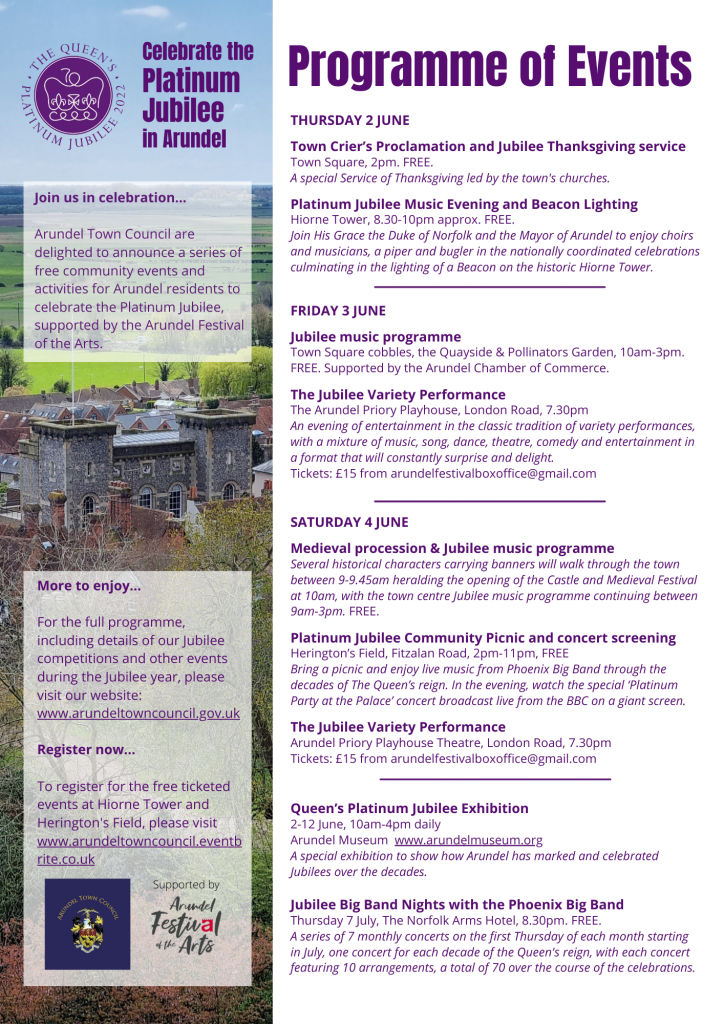 JUBILEE COMPETITIONS
Cake-Making Competition
The first of the town's Platinum Jubilee competitions – a Great British Bake-off style competition – is being organised by Arundel Lido at their 'Elevenses Jubilee Garden Party' on Monday 6 June.

Contact Arundel Lido for more information on how you can join in.
Best Dressed Window
We would like to invite residents to decorate their windows to be judged by the Mayor over the Jubilee weekend. We are offering a prize of a pair of commemorative Jubilee mugs, plus a donation of £70 representing the 70 years of the Queen's reign to a charity of the winner's choice.
Jubilee Flower Competition
Further details will follow, but this is advance notice that to celebrate the 2022 Queen's Platinum Jubilee Year we would like every garden and window box in Arundel to look beautiful this summer. So we are going to run a competition.
The criteria will be a display that embodies the idea of "Celebration"-and you can interpret that idea in any way that you wish.
There will be two categories:
Gardens which are visible to the public, which will generally be front gardens
Other spaces: which can be planters, window boxes or hanging baskets
Judging will take place on the last weekend in August and winners will be announced at the Arundel Flower & Vegetable Show on 29th August.
Art, Photography and Writing Competitions 
To celebrate the 2022 Queen's Platinum Jubilee Year we are going to hold competitions for people of all ages to celebrate the Queen's Platinum Jubilee. There will be three competitions:
The theme of each competition will be: "This is what the Jubilee means to me", which can be interpreted in any way that you wish. Let your creative imagination run riot.
Closing date: 1 November 2022
Entries will be exhibited in the Town Hall and the winners will be announced at the Community Awards presentation on 1st December.
Some of these will be chosen to be included in a time capsule to be buried on 31st December 2022 to mark this historic year for the town.
JUBILEE GRANTS
Arundel Town Council is making available £5,000 to support groups and organisations which are planning to organise events to celebrate the Queen's Platinum Jubilee during 2022.
The maximum grant which will normally be awarded to any single group or organisation is £500.
For full details of the eligibility criteria and how to apply, please download the Jubilee Grant application form here.
PLANNING YOUR EVENT
Public event
Arun District Council have lots of information on preparing for the Queen's Platinum Jubilee here. Further guidance, including their deadlines for applying to hold an event can be found here.
Street parties
The deadline to apply to hold a street party within your community is 15 April 2022. Street parties are simple, private events and do not generally include activities that require licenses, such as selling alcohol or providing entertainment. They are normally:
for residents and neighbours only
publicised only to residents
self organised
You do not need insurance or a formal risk assessment. You will need to provide a plan of the road or roads affected by the event. There is no fee for administering and granting road closures.
Find out more and apply here.
If you require further advice or want to talk through your plans before submitting to Arun District Council, please contact Tracy Clayton, Town Events Manager on townevents@arundeltowncouncil.gov.uk or 01903 882954 option 3.
OTHER USEFUL LINKS
https://www.royal.uk/platinumjubilee – including information on the national celebrations, resources to download including the official Jubilee emblem and guidelines for its use, and hashtags for social media
https://platinumjubilee.gov.uk/ – find out how to share your event to an interactive map, host your own Big Jubilee Lunch, explore funding available and check official guidance on how to name your event